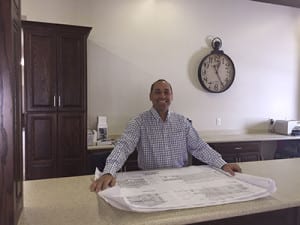 Steve Stoll – BIO
I am the founder and owner of Stoll Construction, LLC and Stoll Metal Sales, LLC. and have been working construction for 30 years.  I started working construction right out of high school for a local contractor, before starting Stoll Construction, LLC in 1994.  We recently purchased a vacant lumber yard in Jonesville, Michigan.  We have remodeled the property and it is now the headquarters for both companies.
We have put together a beautiful showroom to display the variety of products we sell and install and are confident this addition gives our customers added comfort and knowledge in each decision and phase of their construction project. We are always aware of the progression in the construction trade and are excited about exploring new ideas.
We have been a constant presence for over two decades in Hillsdale County and beyond.  We have built many custom homes and completed numerous remodel projects and we look forward to many years ahead.
I am happily married to Renee and we have 3 beautiful college age children.  I have been involved in the community with coaching and many other volunteer activities.  I enjoy basketball, softball, and golf and still have a passion for motocross.
We strive to glorify God in all that we do.  We are thankful for the solid relationships in this community and eagerly anticipate new friendships from the projects that will come our way.